Every so often, someone in one of my mommy groups will bring up iPad/iPhone apps and a bunch of us will throw out suggestions of which ones our little monsters are currently enjoying. So I figured I'd do a post on what Keira is currently using with a couple of mine thrown in for good measure.
One thing I will tell you about all of the apps we have is that they're free. If I can find an app that does what I need it to and it doesn't cost me anything, I'm a happy camper. I'm pretty reluctant to purchase apps for because #1, I don't know if I'm/she's going to like it to start with, #2, how long we'll like it, #3, those $1 & $2 apps add up fast, especially after you've gone through two dozen and your kid only liked 3. For 5 minutes.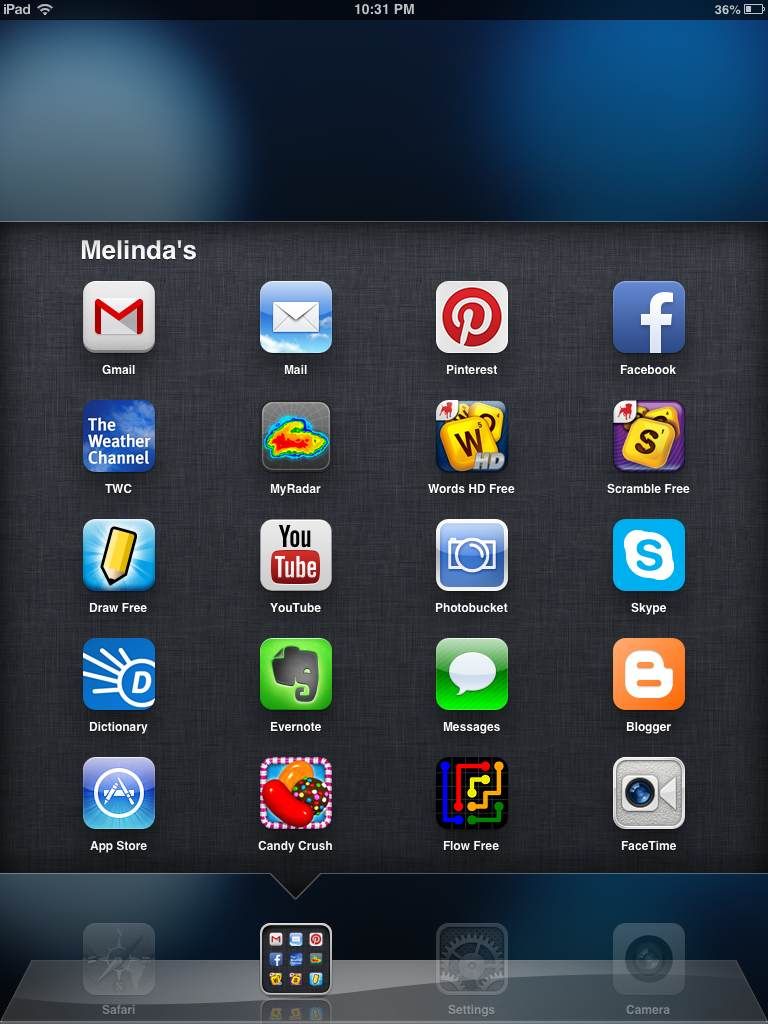 As you can see, I do have them pretty similar. Facebook, Pinterest, Blogger, YouTube, Gmail & messages are used just about daily. I love BlogLovin' for keeping (relatively) up to date on blogs that I follow. (Hint: if you are a Candy Crush player, switch devices, they each refresh lives at their own rate.) And yes, I'm a geek that has a Dictionary app.
Since Keira has the iPad pretty well figured out, I decided to "hide" MY apps in a separate folder. Yeah, she knows to get into it, but luckily, she isn't interested enough to care. Her apps are far more entertaining to her. To be honest, I use my iPhone more than the iPad nowadays. Mainly because it's smaller and it's easier when I need to change positions on the couch (this belly is getting to be fairly uncomfortable).
Keira's Apps
Keira loves to watch the shows on PBS Kids, Disney Junior, Sprout & FP Puppy Dog. She is also a Netflix addict. Luckily, Netflix has a Just for Kids feature that saves me from worrying about her viewing. She just opens it up and chooses from Blue's Clues, Dora the Explorer or any of the huge variety they have available. (Disclaimer: while the Netflix app itself is free, you do need a streaming subscription to watch.)
Her current favorites are
Candy Count
(where she moves different colored beans into their matching containers and then counts the beans in each) &
Animal Seek and Find
(where she picks out giraffes, elephants, baboons, etc from where they are hiding behind trees, bushes, and such). We also spend time with
Elmo's ABC's
(I'm trying to work with her in tracing the letters, but so far, she just points them out).
She goes through spurts where she will want to look at cars or animals, depending on her mood. The Fisher Price apps are fading away as she moves on to move advanced apps, but every now and again, she will
choose still Shapes & Colors or Animals. The rest are still kind of 'hit or miss' on keeping her interest, especially with the nice weather and her insistence on "play on outside".