When I was pregnant with Keira, I wanted a changing table in the bathroom. It would have made cloth diapering easier, having everything in one area. But our bathroom is too small to fit
a standard changing table
anything else at all and try as I might, I couldn't find anything that would work.
When I got pregnant with the boys, we knew we'd continue with cloth diapers and again, I wanted 'something' in the bathroom. It just made sense. Who wants to walk down a hallway with a soggy diaper?
So I got onto Google and searched. And searched. And found...2. One was a lousy Ikea hack which was, quite frankly, unimpressive and had me questioning it's safety. The other was this,
TUBMat by Little Bear
.
It was exactly what I had imagined. I wanted it. Bad. There was just one small problem (ok, big problem). It's made in Australia. The shipping would be insane. I could find nothing else. And I'm good at Google.
Me being me, the wheels started turning & the pen started sketching. "I can make that" is a very dangerous phrase in our house. Once again, Doug's habit of hanging onto everything known to man stuff came in handy and we had almost everything we needed. Doug (with some help from my dad & a couple suggestions from me) made me the most awesome changing table ever. Look how fantastic this is.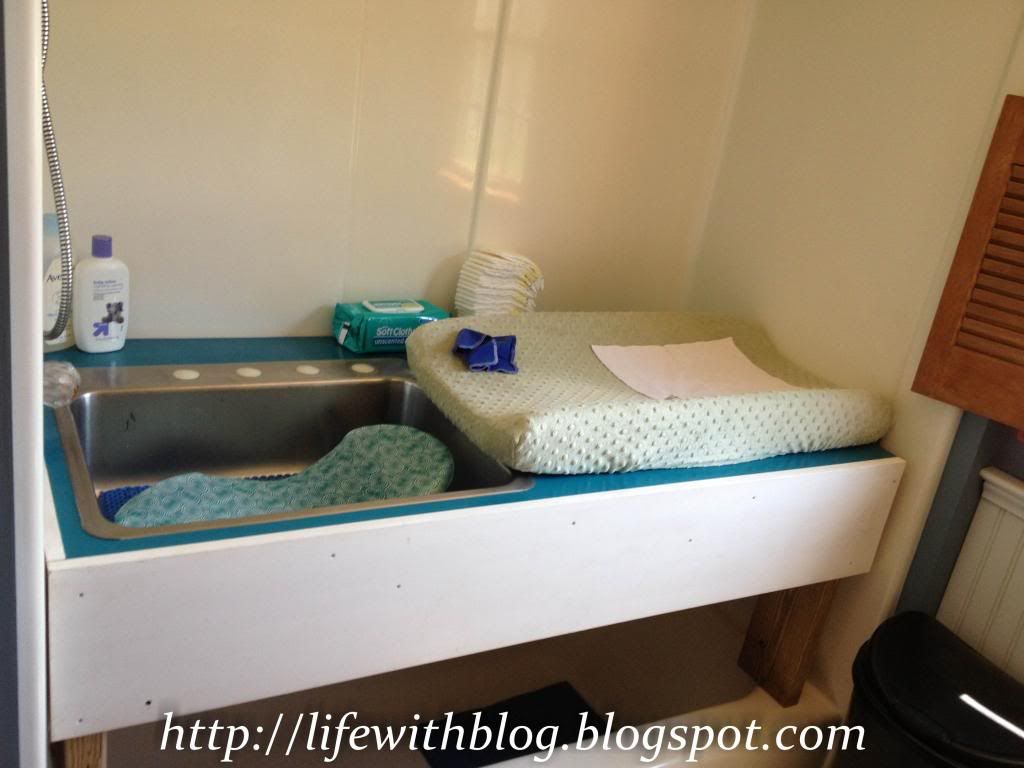 He even built me a shelf to hold everything I needed. It's made from pressure treated so if it gets wet, it's no big deal. It gets really wet if you turn on the showerhead without taking it out of the holder. I'd like to say that only happened once, but I'd be lying. Just another bonus to cloth diapers. They dry out and can still be used.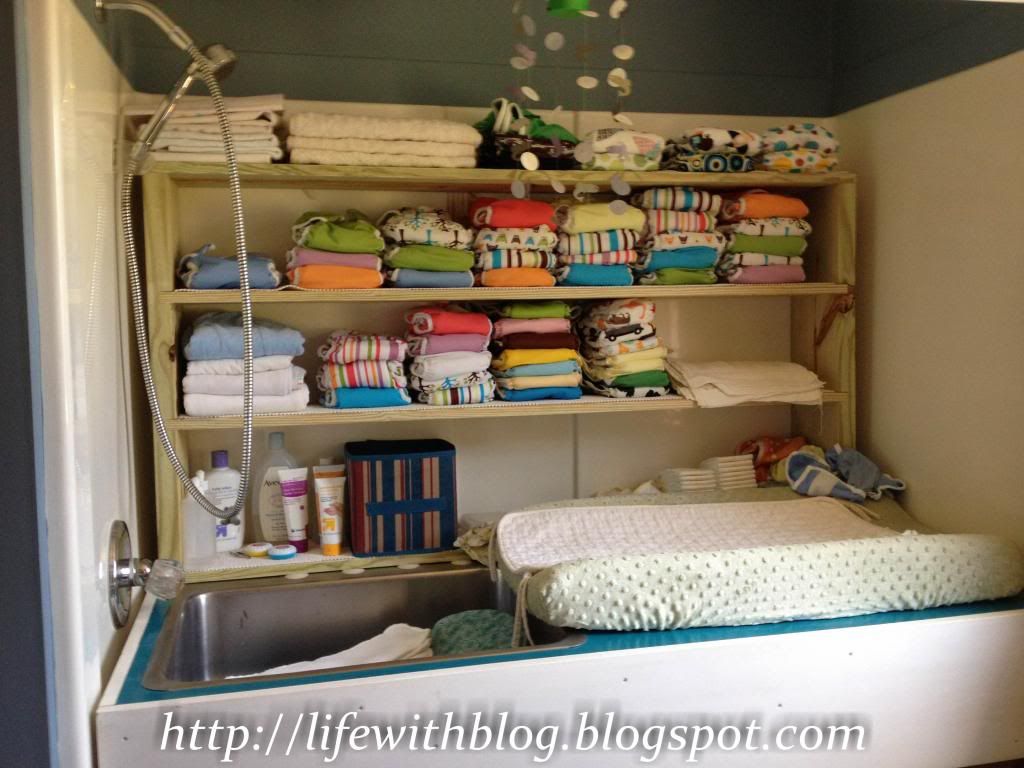 I can give baths, change diapers, and get them dressed all in one spot. I can't even begin to tell you how much I love it. Everyone that has seen it thinks it's great, too.
The boys have had over 550 diaper changes between them since they're been home (I don't actually keep count myself. I have a fantastic baby app. More on that later), so it's already proven it's worth many times over.
They've already had baths in it as well and it worked great. We just turn the changing pad so it doesn't get wet during the bath. (Feel free to ignore my totally unkempt appearance. Newborns tend to have that effect.)




Ok, so the boys themselves couldn't care less, but it makes my life so much easier. How's that saying go? If Mama ain't happy, nobody's happy?

And yeah, they really don't fit in their sleeping gowns yet.